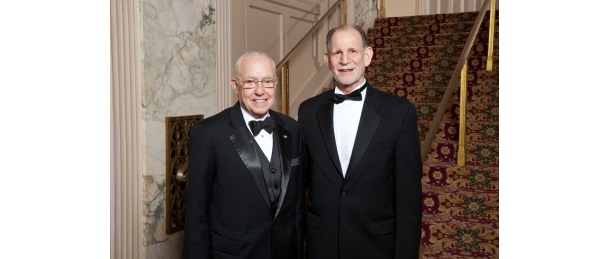 The Founding of the WCNY Legal Affinity Group
It turns out that a lot of Wharton alumni are attorneys. Once you get past the gratuitous lawyer jokes, it turns out that Wharton's attorneys have a lot in common: a desire to help people, a love of the way the justice system can solve the problems that people and businesses encounter, and an appreciation of the hundreds of years of precedent that shaped the way Americans resolve conflict.
When New York attorney, Lew Tesser, W'74, Fels MPA, called the first meeting of the Wharton Legal Network (WhLN) to order on November 18, 2014, all those in the crowded room immediately sensed that this was a group that could unite for a common purpose — to help one another and to help the greater Wharton community in the New York metropolitan area.
The group members network, socialize, discuss practice problems, host newsworthy and topical speakers, foster one another's professional development, and seek to participate with WCNY members and affinity groups. The WhLN's mission is to:
• Exchange information on contemporary legal issues
• Provide programs allowing members to meet and learn from leaders in the legal and judicial fields
• Provide an atmosphere of collegiality and cooperation
• Acquaint members with one another's areas of expertise
• All to the end of promoting civility in legal practice and of providing better knowledge of the law, better representation of clients, enhancement of the members' practices and legal endeavors, and an opportunity to contribute to the public's respect for the legal system
Volunteering their leadership to WhLN are:
Deborah Jagoda, W'81 coordinates Diane Krausz, W'77, a committee to develop a speaker program. These speakers will include lawyers and non-lawyers, largely from the Wharton community, who will present timely and topical presentations to lawyers and nonlawyers regarding legal-related subjects.
Pamela Lehto, WG'90, and Marc Edelman, WG'99, will be spearheading a large committee to plan events for lawyers and nonlawyers that will focus on Wharton networking, rainmaking, practical startup and management techniques, and other topics of interest to a lot of WCNY members.
Jim Shenwick, WG'79, leads a committee to help WhLN members communicate with one another and with members of the WCNY generally, to develop a website, and to otherwise help plan and administer WhLN.
Chair Lew Tesser would love to hear from all WCNY members as to how this group can help serve WCNY members' interests and programs, and from other affinity groups as to how WhLN can collaborate with them. Lew can be reached at Ltesser@tesserryan.com